Brenda J. Barrera is a writer and editor who lives in Virginia.  After graduating from Michigan State University, she landed her first professional job in Chicago at the American Library Association where she enjoyed it so much she stayed for several years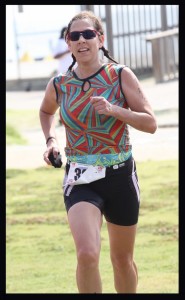 working for Booklist, the ALA Library, and Public Programs Office.
A lifelong interest in sports, good health, and fitness led her to jobs as Editor in Chief at Chicago Athlete, RunMidwest, and Washington Running Report (now RunWashington).  In addition, a highlight was working with the Chicago 2016 Olympic and Paralympic bid.
She is a contributor to the Women's Guide to Triathlon (Human Kinetics, 2015) and author of the Chicago Running Guide (Human Kinetics) and has worked with major events such as the Bank of America Chicago Marathon and Chicago Triathlon. A longtime runner and triathlete, she served on the USA Triathlon Women's Committee (2013-2015) and was elected the USA Triathlon Mid-Atlantic Council in 2016.
Brenda is a contributor to the blog, Sporty Girl Books and current writing projects include children's books about girls + sports.  Follower her on Twitter.